With our new "Super Stealth" aluminum cylinder heads, we've taken our "Stealth" head concept out to the maximum possible degree, without changing the exterior looking "factory cast" type appearance. Our "Super Stealth" heads feature the same great features of our regular Stealth heads such as 80CC "closed" chambers and straight spark plugs. However, the ports have been greatly enlarged, straightened and raised as much as possible. If we were to have raised the ports any further, it would have required a longer (non factory length) valve, which would have then required a raised valve cover rail, which would have then completely changed the exterior height and look of the head.
One major change is that we almost completely removed the "dog leg" turn in the entrance of the intake ports which is usually required for pushrod clearance. Because of this, these heads do require (8) .650" offset intake rockers, available on our website as part number 200-1125, or from many other major brand name rocker manufacturers. Aside from these eight rockers, nearly every other factory part will interchange with these heads, including head bolts, valve covers, intake manifolds, valley pans, headers, head gaskets, exhaust rockers, intake and exhaust valve stem length, rocker shafts, hold downs, etc.
These heads are sold BARE ONLY. This is because we sell them as a rough starting point for your cylinder head tech, depending on how far you want to go with them. You might want to do a 2.14" intake valve, or maybe a 2.19", or maybe even bigger? You might want to give them a light cleanup, or go with a full out porting, for maximum power. This approach also allows your cylinder head tech to do the valve job exactly how he wants, set guide clearance, and assemble with the correct springs and other hardware to match your camshaft. These are a starting point to be incorporated into your build, not a bolt on, ready to go deal. For this reason, we don't list flow numbers, port CC's, etc, since this will all vary depending on the work you have done. We can say we have had dozens of folks make upwards of 725 horsepower with our regular Stealth heads, and preliminary testing has shown these heads have far more potential than our regular Stealths. With this setup, and the right combination, you could easily expect an additional 100-150 horsepower or more over our regular Stealths.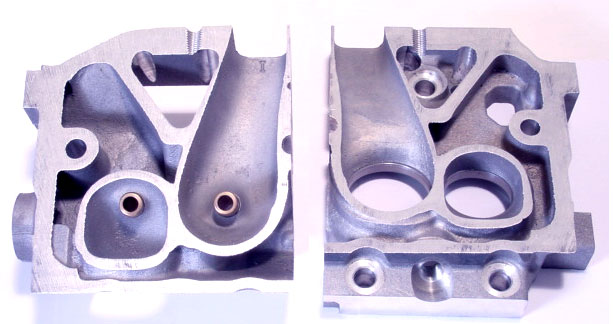 In the picture above, we have taken one cylinder, and cut it apart horizontally on a bandsaw. You can see the top half (roof) of the ports on the left and the bottom half (floor) of the ports on the right side of the picture. Notice the large, straight shot of the intake port with almost NO pushrod turn.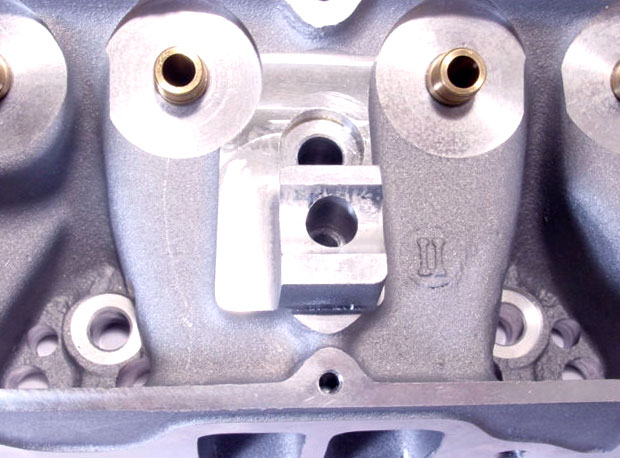 Here above you can see the top exterior view of the intake ports. Notice how much additional "meat" has been filled in the area where the intake pushrods would normally be. That gives these heads a straight shot, directly to the valve. Even though this shot is of the exterior, you can see how much additional material has been added to make the intake ports as large and wide as physically possible without going beyond the factory "platform" or exterior type appearance.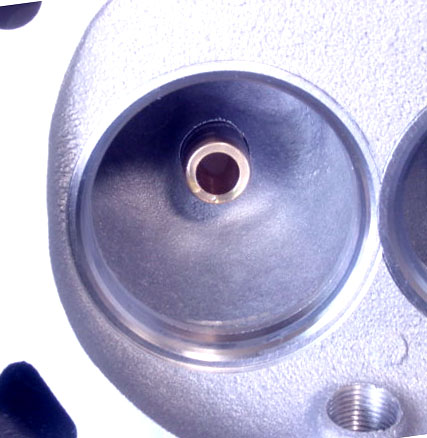 Looking into an intake port (although it might be hard to judge from the picture) you can see how much the valve pocket has been raised and opened up. And this is just the starting point. Think of what some skilled head porting can do from this point on...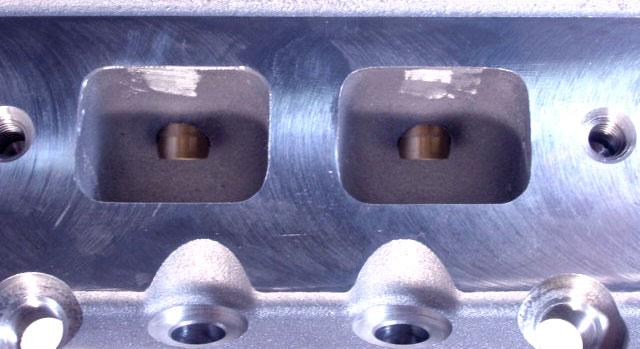 The exhaust ports have also been enlarged, opened and raised, without changing the height of the flange, so you can use any headers, manifolds, etc that fit a factory head.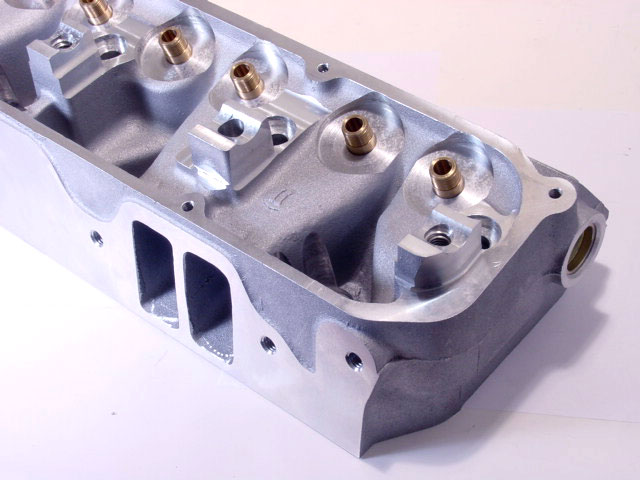 Overall view of our "Super Stealth" cylinder heads, showing the exterior factory look.