440 Source Store Policies:
Our NUMBER ONE PRIORITY is to make sure that you, our customer, are always 100% satisfied with your purchase from us.
Offering the best Big Block Mopar parts at the lowest prices day after day, month after month, and year after year has been our first, last and ONLY business.

Since 2003, we've sold millions of parts to hundreds of thousands of customers.

We're the only business in the world that specializes in nothing but Big Block Mopar parts, and we know them backwards and forwards.
These store policies allow us both to be on the same page when we do business together. Please read them before ordering.

Table of Contents:
Returns:
Warranty:
Domestic Shipping:
International Shipping:
Payment Methods:
Location:
Legal Terms of Use:
---
If you wish to return an item and it is in brand new, unused and resellable condition, you can return it to us for a period of 45 Days from your invoice date. All returns on non defective items will be charged a 20% restocking fee, and shipping charges are not refundable, so if you are not sure exactly what you need please talk to a tech before ordering. Custom machined items (such as balanced stroker kits, etc,) are not returnable.
We do not cover return shipping costs or issue call tags, it is the customers responsibility to return any merchandise back to us.
Please note: In an effort to ship all orders as quickly as possible, your order may be packed and shipped IMMEDIATELY after it is placed, even during non business hours or holidays. This means you may not be able to make changes or cancellations after placing an order, so if you are not sure what you need or have any technical questions, please talk to a tech or sales person before placing your order.
---
We warranty all items to be free of defects in materials and workmanship for a period of 45 Days from your invoice date.. Should you find a defective item, we will replace it with another same or similar item as long as it is within the warranty period. Just call us up and explain the problem. We might want to have you email us pictures or compare measurements of the defective area to confirm the defect before you return the part to us for warranty. Please note, you must check over all part(s) to your complete satisfaction before they are used. Many of our parts are intended for high performance and/or racing applications, and as such they ARE NOT WARRANTED against breakage or failure during usage. It is the responsibility of the installer to ensure proper component selection, installation, fit, tolerances and many other factors.
---
Domestic (United States) Shipping:
We normally ship via FedEx Ground/Home, which can take up to UP TO 5 BUSINESS DAYS (not including date of shipping, weekends and holidays.) See the map below for more detailed delivery times. If we are able to upgrade your order to a faster shipping method (such as Priority mail or First Class Mail) at no additional cost to you, we may do it. On our web store, you can find a shipping cost calculator which will allow you to find the exact costs of shipping the parts to your zip code before you place your order. Shipping charges must be prepaid and will be included in the invoiced total of your order. Our minimum shipping & handling costs on any order is $14.95.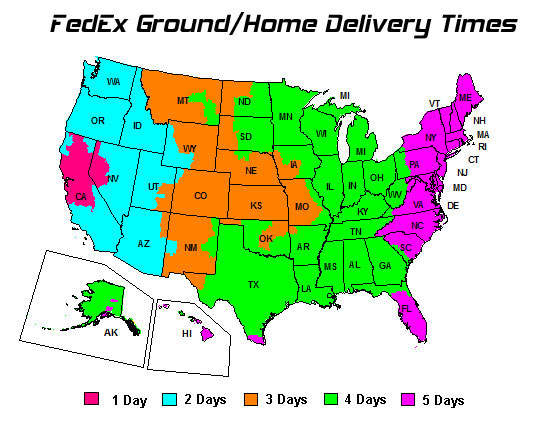 If you need your parts sooner, we offer Express shipping, which is available in 3 day, 2 day or overnight. Express delivery times do not include the date of shipping, weekends and holidays. Our shipping cutoff time is 2PM Pacific Standard Time for orders to ship the same day. Any orders received after 2PM Pacific Standard Time may ship the following business day. Please keep this in mind if you are considering upgrading to express shipping and are placing your order after our cutoff time. Although express option upgrades are available on our web store, if you have important specific delivery timeline needs, we recommend placing your order with a salesperson over the telephone. This will allow them to verify that all parts are in stock, and review the exact date of shipment and delivery with you.
All shipments are sent FOB, or "freight on board." This means you assume ownership of the merchandise once it leaves our warehouse. If your shipment tracking info shows the shipment as "delivered" to your address, we will not be held responsible for anything that happens after that point.
We normally do not ship items "Signature required" unless requested. This means your driver will probably leave the shipment on the porch or around the side of the house/building if no one answers the door. If you do not feel comfortable with packages being left, please make sure to specifically request a "signature required" option when ordering. You must place your order over the telephone with a salesperson to do this, and there will be a small extra charge per box for the "signature required" option. On certain high value orders, we may elect to ship them "signature required" at our discretion. If you specifically DO NOT want your order shipped "signature required," you must place your order over the telephone with a salesperson, and we can make sure they are not shipped "signature required."
We also reserve the right to combine multiple orders into one shipment when possible.
---
We ship internationally by either FedEx or the United States Postal Service. Delivery time can be from a few days, up to two weeks. You may be responsible for any customs and/or taxes added by your country, and/or brokerage charges Sorry, we are not able to list items sold as a "gift" or at a lower than actual value to avoid paying taxes.
---
We accept Mastercard and Visa, either of these is generally the quickest and easiest method of payment. You may also pay by Cashier's Check (also known as a Certified Check or Bank Check) or a Postal Money order, which must always be in US funds. Please call or email first for details, as we must make sure we have the item(s) you need in stock and give you a total including shipping charges before you send payment. If you desire proof of delivery (and faster, more reliable service,) you may want to send your payment via an "overnight" letter service (such as FedEx, UPS, USPS, etc), with a tracking number and confirmation of delivery service.
If you don't have a Visa or Mastercard, a good alternative is the "prepaid" Visa or Mastercards usually sold at the local Wal-Mart, etc. These are sold as a generic giftcard and can be used anywhere Visa or Mastercard is accepted. They can usually be purchased with cash, and then are good for any value up to $500.
Sorry, but we don't accept personal checks, American Express, Discover, or auction payment sites such as Paypal, Billpay, etc.
---
Our main warehouse is located at 3680 Research Way, Carson City, NV 89706, (about 20 minutes south of Reno, NV.) If you wish to will call parts directly from our warehouse, it helps to call us first to check stock and make an appointment. It is Nevada State law that all parts which are being picked up at our warehouse will be subject to state sales tax, even if you plan to export them out of the state and/or country after purchase.
---
We urge you to read the following Terms of Use:
Acceptance of our terms of use:
440 Source makes a variety of information, materials and merchandise available to you on its Web site (the "Site"), and through other methods of advertising and direct purchase, subject to the terms and conditions in this document. By accessing any portion of the Site or purchasing or receiving any products or merchandise from 440 Source through any other means, including, without limitation, any new or used merchandise, downloadable materials or information, Web pages, and any other material, you agree to the terms in this document (the "Terms of Use.") 440 Source reserves the right to change the Terms of Use; your use of the Site is subject to the most current posted version of the Terms of Use.
Warranties and disclaimers:
All materials, merchandise and services on the Site are provided "as is" without warranty of any kind, either express or implied, including, but not limited to, the implied warranties of merchantability or fitness for a particular purpose, or the warranty of non-infringement.
Without limiting the foregoing, 440 Source makes no warranty that (i) the services, merchandise and materials will be uninterrupted, timely, secure, or error-free, (ii) the materials or merchandise will meet your requirements, (iii) the results obtained from the use of the services, merchandise or materials will be effective, accurate or reliable, and (iv) the quality of any products, merchandise, services, or information purchased or obtained by you from 440 Source will meet your expectations; and (v) any errors in the materials or merchandise obtained from or used through 440 Source, or any defects in 440 Source's services, materials or merchandise, will be corrected. Some states or jurisdictions do not allow the exclusion of implied warranties or limitations on how long an implied warranty may last, so the above limitations may not apply to you. Where it is legal to limit implied warranties, and where implied warranties are legally required, they will be limited to 30 days.
440 Source assumes no responsibility for errors or omissions in anything that is referenced by or linked to the Site. References to other corporations, their services and products, are provided "as is" without warranty of any kind, either express or implied.
The Site could include mistakes, inaccuracies, or typographical errors. 440 Source may make changes to the Site, including the prices and descriptions of any products listed herein, at any time without notice. The materials, prices, specifications or services at the Site may be out of date, and although 440 Source makes every attempt to keep the site as accurate and up to date as possible, 440 Source is under no commitment to update such materials, prices, specifications or services.
In no event shall 440 Source or its suppliers be liable to you or any third party for any special, punitive, incidental, indirect or consequential damages of any kind, or any damages whatsoever, including, without limitation, those resulting from loss of use or profits, whether or not 440 Source has been advised of the possibility of such damages, and on any theory of liability, arising out of or in connection with the use of the Site or its products, or of any web site referenced or linked to from the Site. Some jurisdictions prohibit the exclusion or limitation of liability for consequential or incidental damages, so the above limitations may not apply to you.
No advice or information, whether oral or written, obtained by you from 440 Source or through or from the Site shall create any warranty not expressly stated in the terms of use.
These Sites contains links to third-party Web sites that are not under the control of 440 Source. 440 Source makes no representations whatsoever about any other Web sites to which you may have access through the Site. When you access a 3rd party Web site, you do so at your own risk and 440 Source is not responsible for the accuracy or reliability of any information, data, opinions, advice, or statements made on these sites or for the quality of any products or services available on such sites. 440 Source provides these links merely as a convenience and the inclusion of such links does not imply that 440 Source endorses or accepts any responsibility for the content or uses of such Web sites.
Trademarks used in the site
The site refers to a number of brands which are covered by intellectual property laws including trademarks. This includes, without limitation, Chrysler, Dodge, Plymouth, Hemi, and Mopar. 440 Source makes no pretensions regarding ownership of these trademarks and is not affiliated with any of the owners of these trademarks. 440 Source's use of these trademarks is journalistic in nature only, similar to newspaper and magazine articles discussing these products and organizations.
Copyright and license
The photographs, materials and information on the Site are protected by copyright and/or other intellectual property laws. Any unauthorized use may violate such laws. Except as expressly provided herein, 440 Source and any other writers or copyright or trademark holders do not grant any express or implied right to you under any patents, copyrights, trademarks, or trade secret information with respect to the photographs, materials, information, and services.
Except as specifically permitted herein, no portion of the information or documents on the Site may be reproduced in any form or by any means without the prior written permission of 440 Source. This includes, but is not limited to, "reprinting" on the Web, in newsgroups, and in mailing lists.
Except as otherwise indicated elsewhere on the Site, you may view, download and print the documents and information available on the Site subject to the following conditions:
The documents and information on the Site may not be distributed.
The documents and information may be used solely for personal, informational, non-commercial purposes.
The documents and information may not be modified or altered in any way.

You may not remove any copyright or other notices contained in the documents and information.

440 Source reserves the right to revoke the authorization to view, download and print the documents and information available on the Site at any time. Any such use shall be discontinued immediately upon notice from 440 Source.
The rights granted to you constitute a license and not a transfer of title.
The design and layout of the Site are protected by trade dress and other laws and may not be copied or imitated in whole or in part.
Indemnity
You agree to indemnify and hold 440 Source, and its subsidiaries, affiliates, officers, agents, co-branders or other partners, and employees, harmless from any claim or demand, including reasonable attorneys' fees, made by any third party due to or arising out of any transactions with 440 Source, or your use of the Site, use of our merchandise, your connection to the Site, your violation of the Terms of Use, or your violation of any rights of another person or entity.
Governing law and jurisdiction
This Site (excluding linked sites) is controlled by 440 Source from its offices within the state of Nevada, United States of America. By accessing the Site and/or ordering merchandise or engaging in any type of business transactions, you and 440 Source agree that all matters relating to any disputes of any type regarding but not limited to any business transactions, or your access to, or use of, the Site shall be governed by the statutes and laws of the State of Nevada, without regard to the conflicts of laws principles thereof. You and 440 Source also agree and hereby submit to the exclusive personal jurisdiction and venue of the Superior Court of Carson City County and the United States District Court in Nevada with respect to such matters. 440 Source makes no representation that merchandise, materials, information, or Services available on this Site are appropriate or available for use in other locations, and accessing them from territories where their contents are illegal is prohibited. Those who choose to access the Site from other locations do so on their own initiative and are responsible for compliance with local laws.


All website content copyright 440 Source.
775.883.2590